MAY 26-29 2016
ARTPOLE on the INTERMEZZO festival
Sozleryn akykat yolundan ketemi? / Are your words walking the track of truth? — it is a quotation from the story "Under the Minarets" written by Mykhailo Kotsyubynskiy one hundred years ago. The questions he was thinking about that time — the land, the traditions, the interaction with the people of other faith — remain relevant now, every time appearing in the new circumstances.
:::track::: — is the initiative of ArtPole Agency that has to keep a continuous connection with Crimea. In Vinnytsya Olia Mykhailiuk proposed to combine the traditional decorative patterns with the quotations from Mykhailo Kotsyubynskiy's stories about Crimea. This idea inspired the artists from Vinnytsya Yulia Hushul and Olexandr Nikityuk to join the common work. The decorative patterns were combined with the quotations written in Ukrainian and Crimean Tatar languages. The work on the location proposed by local community — Library №1 — has started in October the last year — and till the opening of Intermezzo-2016 festival the painting was finished.
учасники проекту
Olia Mykhailiuk during the last two years created publicist series about Crimea and Donbass, a series of performances, an interdisciplinary project rozdiLOVi that combined a poetry, a music, and a visualization — Olia is not only the director of it, but also the author of visual images. For :::track::: in Vinnytsya Olia has chosen the fragments from Kotsyubynskiy's text and developed its' writing.
Rustem Skibin was born in Samarkand (Uzbekistan), in 1996 came back to Crimea, from March'2014 lives in Kyiv. Rustem has created his own style of polychrome painting on ceramics with strong features of Crimean Tatars' traditional culture. His studio El-Cheber is famous far outside Ukraine.
Yulia Hushul — an independent artist, now lives in Vinnytsya. She takes part in her own art exhibitions as well as the common ones — for example the project of the South African artist Candice Breitz which was shown in PinchukArtCentre. Yulia is interested in decorative folk art. As a journalist-freelancer she writes for Kyiv magazines about architecture and decor.
Olexandr Nikityuk heads The Topical Creativity Laboratory, organizes and curates a lot of art initiatives that are famous outside Vinnytsya, in particular, International winter festival of environmental art "Mifogenez" (was held from 2006) and mural art project "Intervention" (2011-2015). He proposed to implement :::track::: to the walls of Library №1.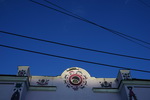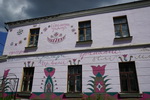 The Acoustic Workshop of Tale "Big Ear"
Bir zamanda bar eken, bir zamanda joq eken — this is the most common beginning of the Crimean Tatars' fairy tales. If it was once upon a time or no… Fairy chariks (shoes), tricks of Tilki-fox, sultan's riddles, gins and the beast Adzhaga, the sea and the mountains, the crying pomegranate, and the smiling quince… - that time the kids learned about the fairy stories and heroes of Crimean Tatars.