MARCH 15-26 2017
ART IN TIME OF CHANGES AND CONFLICTS
idea/visualisation: OLIA MYKHAILIUK
text/voice: SERHIY ZHADAN
music: ALEKSEY VORSOBA / VLAD KREYMER
March 15 — Starobilsk
, M. Gorkii Luhansk Oblast Library
March 16-17 — Severodonetsk
, Vostok-SOS, "KhochuBudu" Public Platform
March 18-19 — Kramatorsk
, VILnaKHAta
March 22 — Bakhmut
, Regional Museum
March 23-24 — Pokrovsk
, Platform of Initiatives "Lampova"
March 25-26 — Mariupol
, Platform TU!
Literature and visual arts always reflect the topic of war, lost home, searching for your own identity. J.D. Salinger once said that It has never occurred to boys to have contempt for wars, to point to soldiers' pictures in history books, laughing at them. Half a century later, F. Beigbeder described the horrors of war that Salinger-soldier had to see before he came to this conclusion and became a hermit refusing to give interviews and talk about personal themes. The most prominent Austrian poet of the 20th century Paul Celan had a different experience of the same World War II. His Jewish family was killed in in concentration camps. Several years of searches of the language — that special German — which you can talk after terrible Nazi crimes, and the world sees a poetry book "Poppy and Memory" that marks a turning point of postwar German lyrics and becomes a symbol of "poetry after Auschwitz".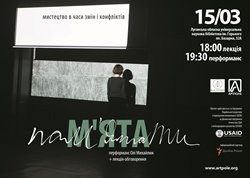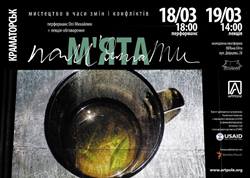 Art in time of changes and conflicts. This topic is very broad. We decided to focus on our subjective choice, on those works that truly impressed us, encouraged to think, and sometimes just helped to soothe certain conditions (desperation, anger, isolation).
Do not exaggerate your grief, people with suitcases,
— from the book The Speckled People. —
Maybe your country is the only place you make up in your own mind. Something you dream about and sing about. Maybe it's not a place on the map at all, but just a story full of people you meet and places you visit, full of books and films you've been to. I'm not afraid of being homesick and having no language to live in. I don't have to be like anyone else. I'm walking on the wall and nobody can stop me
. It is interesting that Olia who has been working in a field of visual art for the last three years, shares her impressions about the literature that followed and inspired her.
The searching of our own image — our memory is about the events of the last years in our country. It is especially important. This topic is reflected in Olia Mykhailiuk's performance mint also represented by ArtPole within the project. It is a synthesis of genres. One part includes texts, interviews, words… The other one is an interaction between a body and a word. This is an evening of one proverb — remember (паМ'ЯТАти) that in Ukrainian includes "me and you", "memory and mint", smell, taste, conversation about losses, and calming green color… Olia's story is intertwined with the stories of her close friends. The war forced one of them to join the volunteer battalion, the other one — to leave his native town. The multidimensional collage gives a possibility to touch the memories for a brief moment — to meet those who went. To get closer to the silence and together live through this "minute".
For us it is not our first meeting with these cities, but this time it is very special. We continue to look for the ways of talking about the difficult topics and hope at least to formulate questions together — if not find the answers yet.
The project is a part of Ukraine Confidence Building Initiative (UCBI) funded by the US Agency for International Development (USAID).